Since the beginning, we have been creating local marketplaces that allow for patrons in a certain community to discover, shop, and buy online from businesses in their own community. With the rise of online shopping from mega marketplace websites, we felt it was important to market the local community's businesses online together in order to help keep online commerce local, even in the era of digital commerce.
Without a local marketplace website, customers would have to know about or research which businesses offer the goods they're looking for, visit their website (if they have one) or drive to that businesses retail shop only to discover that the items they want weren't in stock. When we can conglomerate each business' products into one site, and help customers to purchase with just one checkout, it alleviates the pains of shopping local and gives small businesses a fighting chance against the online giants.
However, we don't just do this on our own. We align our marketplace websites with an organization or entity in that community that is already serving small businesses. Such organizations may be a Chamber of Commerce, a Main Street, a local Economic Development Agency, or another similar entity. This organization serves as the backer behind the platform, allowing the platform to be a resource to their small businesses, serving as a member benefit or small businesses support initiative.
Benefits of hosting an online local marketplace for your community: 
Platform helps current and new members see the benefit of membership that can actually bring them sales.

Allows you to promote one website that can stimulate business for your members through the shared initiative.

Trackable value offering to businesses since you're able to determine the number of sales, leads, and site traffic metrics.
---
We've partnered with numerous Chambers of Commerce and similar organizations on local marketplace websites.
Here's just a few of our local marketplace partners: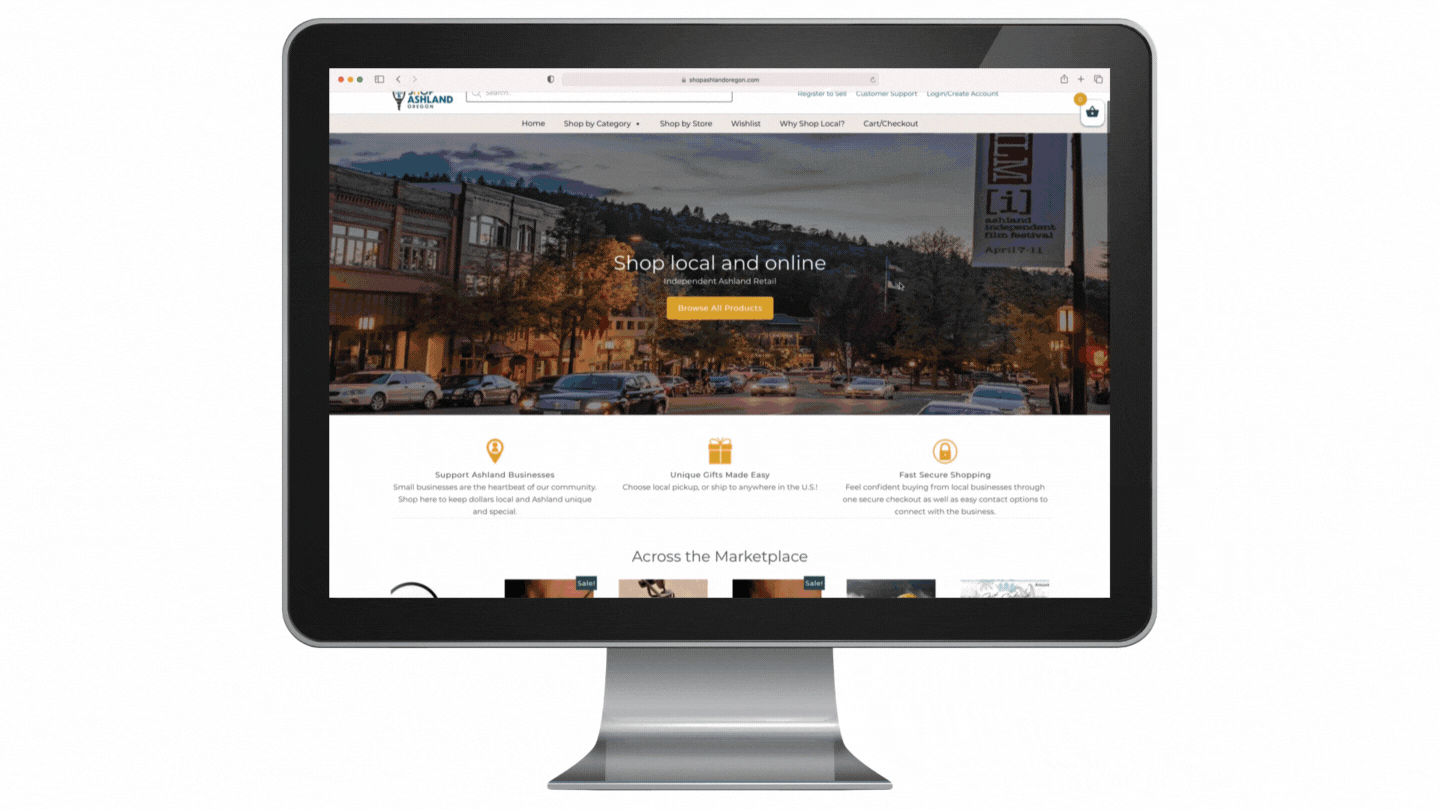 The Ashland Oregon Chamber of Commerce partnered with Member Marketplace to launch the website ShopAshlandOregon.com, a marketplace platform for small businesses in Ashland to sell together online
The site provides local businesses a convening space to sell food and products online. "We are able to get the best of both worlds," says Preston. "We support local businesses and are able to meet customers where they're at, comfort-wise. And the community has really rolled up its sleeves to help." More customers than ever purchase products online. By buying through the website, customers avoid using third-party sites that take a cut of vendors' profits." – Read more
Our local marketplace platforms have helped many small businesses sell online for the first time. They benefit from having the quick onboarding to the platform, staff that reviews their products and provides best-practice feedback, and live support when they have questions.
"The platform has by far exceeded my expectations. To be honest, initially I was pretty skeptical and a hard sell on the idea. I really only did it to support the Chamber, but I am so glad I did." – Business Owner in Nebraska

"Just a quick thank you! This site is so well done and has such add on features. Love that I can have a drop down menu. Thank you for accepting me as a seller." – Business owner in Nevada

"Thank you! Set up has been extremely simple and I am impressed!" – Business Owner in Iowa
---
If you're interested in exploring a local marketplace for your community or main street, contact us.